Understanding your blueprint extends your life and optimizes your health because knowledge is power.
It has been said the that our "genes load the gun, but our lifestyle pulls the trigger." Deborahlise prefers the analogous that your epigemone is simply a blueprint for your house or temple (your physical body), and how you choose to build, clean and maintain your house or temple, is within your power.
Nutrigenomics reveals the interaction of nutrition on your genes
Nutrigenomics is the scientific study of the interaction of nutrition and genes, especially with regard to the prevention or treatment of disease.
The beauty of utilizing this information as a powerful tool in preventative medicine is that once we understand what we are predisposed to, we can be diligent about how we maintain our house or temple by optimizing our lifestyle, preventing exposures and detoxifying our bodies appropriately.
To understand the fascinating field of nutrigenomics, we must take a moment to understand "epigenetics".
Epigenetics or how your inherited genes change with "outside" influences
The field of epigenetics is quickly growing and with it the understanding that both the environment and individual lifestyle can directly interact with the genome to influence epigenetic change.
Epigenetics is the study of heritable changes in gene expression (active vs inactive genes) that does not involve changes to the underlying DNA sequence—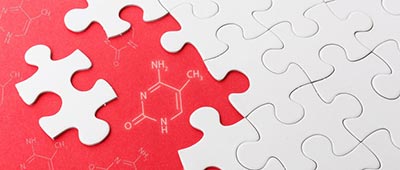 "a change in phenotype without a change in genotype" —which in turn affects how your cells read your genes.
Epigenetic change is a regular and natural occurrence but can also be influenced by several factors including age, the environment/lifestyle, and disease state.
In other words, we went from believing that our genetic blue print is our destiny of which we have no influence, to understanding that we can influence gene expression with lifestyle, nutrients, exposures, microbial diversity and environmental factors.
What began as broad research focused on combining genetics and developmental biology by well-respected scientists including Conrad H. Waddington and Ernst Hadorn during the mid-twentieth century has evolved into the field we currently refer to as epigenetics. The term epigenetics, which was coined by Waddington in 1942, was derived from the Greek word "epigenesis" which originally described the influence of genetic processes on development.
Science has finally caught up and is validating the ancient notion that "you are what you eat", or at least "what you eat will influence your gene expression", as well as where your live, what you are exposed to, and even how you were born.
Deborahlise has had the honor of studying Nutrigenomics (aka Strategic Medicine) with Dr. Ben Lynch and Seeking Health, LLC, as well as with Steve Ottersberg, M.S., Dr. Nasha Winters, Dr. Grace Liu, among others.