Microbes dictate our health, physically and emotionally, and are likely responsible for triggering human DNA to express.
In numerous studies, the microbiota have been found to be crucial for immunologic, hormonal and metabolic homeostasis of their host.
So what is the Microbiota (microbes)?
The microbiota is an "ecological community of commensal, symbiotic and pathogenic microorganisms found in and on all multicellular organisms studied to date—from plants to animals." A microbiota includes bacteria, archaea, protists, fungi and viruses.
The synonymous term "microbiome" describes either the collective genomes of the microorganisms that reside in an environmental niche or in the microorganisms themselves.
It has been said that humans are simply an elaborate host for microorganisms. You are a type of "superorganism" hosting microbiota that outnumber the actual cells of the make up your body, aka the host.
Are we more microbe or human DNA?
Simply put, we are estimating that humans are more microbial DNA than they are human DNA, possibly 10 to 1. This means that we are more microbes than we are human.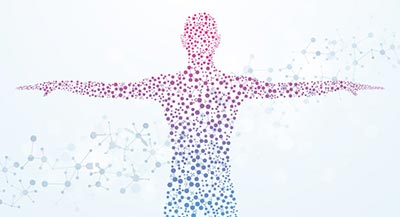 The advent of antibiotics, which was actually derived from microbes (fungi), completely transformed modern medicine, and now we are learning that probiotics can alter the microbiota in a similar pattern. We also learned that the microbiota "finger print" that influences genetic expression and overall health is passed down through the mother to her offspring during vaginal birth.
How important is microbiota diversity?
This is truly the most exciting field of medicine for Deborahlise. She believes that the future of medicine is actually coming full circle to utilizing the tools of ancestral medicine. With the study of Ancestral health, we are seeing the diversity of the microbiota, such as in nomadic tribes vs. over-developed cultures, has a critical impact on health and chronic illness.
This can also mean that through time immeasurable, Ancestral medicine has been actually treating microbes, not just the human host, and that these tools hold the key to the fascinating world of "Microbial Medicine."
On Deborahlise's journey to optimize her own health, she studied extensively on the gut connection with our immune system, neurotransmitter formation (brain health), and chronic disease due to poor digestion and dietary choices.
Ayurveda states that there is no disease without Ama (undigested toxins) and Hippocrates was know to say that "all diseases start in the gut."
All of Ancestral medicine has a strong focus on digestion—evaluating the clients bowel movements & digestive patterns—and will first treat with food and herbs/spices. This ancient wisdom is finally validated by the discovery of the Microbiota, also know as the Microbiome (the collection of genes of the microbiota).
Deborahlise studied the Microbiota & the Microbiome with Dr. Rob Knight, Dr. Jessica L. Metcalf, Dr. Katherine R. Amato, among others, and continues her research through the Gut Institute and Dr. Grace Liu.